* Introducing Mobile Outpatient Occupational Therapy "MOBILE OUTPATIENT", (patients are seen in their own home or place of business and do not have to be homebound) OR CLINIC APPOINTMENTS AVAILABLE.

"Aloha"
Foley Hand Therapy gives a unique patient care experience. Our commitment to quality patient care is our highest priority.

Testimonials:
Click button below: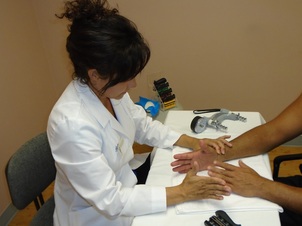 Hand and Upper Extremity Therapy

At Foley Hand Therapy we work with patients who, due to disabilities, trauma or complex medical conditions, need assistance in developing the kinds of everyday skills that allow them to function at their maximum level of independence in any area of their stage of life.

Hand Therapy involves evaluation and testing to assess the injured limb from which a specific treatment program can be designed. A variety of specialized treatment techniques are used to help a patient regain maximum use of the hand/upper extremity after injury, surgery or the onset of disease.

---
What types of conditions does Foley Hand Therapy treat?

Repetitive motion disorders such as carpal tunnel, tennis elbow, DeQuervain's Syndrome etc.
Chronic problems; rheumatoid arthritis, osteoarthritis
Scars
Burns
Tendons or nerves injuries
Fractures
Amputations.

Our treatment program often starts within days of the injury or surgery right through to the patient's return to work and/or a productive lifestyle. We work one-on-one with you to develop an individual treatment plan that will best address your unique medical situation. We provide the best possible therapeutic treatment from a full range of approaches which include:

Custom splinting
Heat, cold
Electrical stimulation
Ultrasound
Soft tissue mobilization
Trigger point release
Core strengthening exercises
Therapeutic exercise
We also educate you about ways to improve and maintain your capacity to function and to prevent future injury.
Lymphedema Therapy - using CDT (complete decongestive therapy)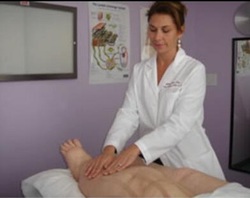 Manual Lymph Drainage (MLD) is the common name given to a massage technique used to treat lymphedema and is used in conjunction with CDT to manage your lymphedema. The swelling caused by lymphedema arises when the lymphatic system (
lymphatic vessels or lymph nodes or both
) is damaged and cannot transport lymph back to the blood circulation. When this happens, large protein and fat molecules collect in the interstitial spaces and chronic inflammation and scar tissue develop. Because its normal flow is impeded, lymphatic fluid backs up, causing the swelling called lymphedema.
Many uses of CDT, Manual Lymph Drainage:
Relieve swollen limbs

Post-cancer treatment

Reduce pre surgical swelling, post surgical bruising and swelling
Reduce symptoms of Complex Regional Pain Syndrome (CRPS)

Venous edema
Information is available from our office and from organizations such as the
Academy of Lymphatic Studies
and the
National Lymphedema Network
.
---